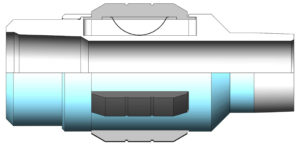 Drag Block
The Drag Block assembly is usually run in conjunction with down-hole tools that require rotation to set or unset, like mechanical packers or hangers. The Drag Block is installed within a tubular string, to only allow rotation of the tubular sting that is installed above the placement of the Drag Block. During string rotation, movement of the tubular string located below the placement of the Drag Block, will remain stationary. If the friction force of the Drag Blocks to the casing wall is overcome by surface applied torque, the Drag Blocks will slip. To engage the Drag Block, rotation of the tubular sting must be applied. All rotational, compressive, and tensile strengths, of the Drag Block are designed to API standards.
The Drag Block consists of hardened Blocks and Springs. The Springs apply an internal force to continually keep the Blocks in contact to the Casing wall. To operate and set the DBK, place it within the well bore at the desired depth. While placing the work sting to the desired depth, the DBK will drag while running in the hole. Either Left-Hand rotation or Right-Hand rotation will create the spring-loaded DBKs to engage against the casing wall it resides in. The DBK can continue to create friction drag, when simultaneously reciprocating and applying torque to the string.
The torque applied to the DBK can be monitored from the rig floor. If the monitored applied torque drops, this can be an indication that the DBK have lost a rigid engagement to the casing wall. Attention to the torque should not exceed the recommended maximum torque of the tubular connections. This is especially important if Left Hand rotation is used to set the DBK.
APPLICATION:
To isolate partial movement of a tubular string down-hole from rotating.
To set mechanical hanger or packer tools down-hole that require rotation, while tubular or tooling below, must stay stationary.
FEATURES:
Can be activated or engaged using right hand or left-hand rotation.
Can hold torque for setting tools in either direction.
Will not restrict any thermal pipe movements downhole.
Manufactured with high grade materials to API specifications.
Can be set and used in either a vertical or horizontal position.
Functioning and torque monitoring of the tool is read from surface.
Tripping in and out of the hole is not affected by the Drag Block in the string.
BENEFITS:
Allows specific rotation of a tubular string to allow mechanically set tools to be used when other options are not available.
---