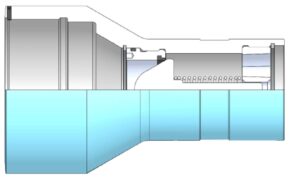 Check Valve
The Check Valve (VAL) was designed to run in conjunction with the Hydraulic Release Tool (HRT) and the Mechanical Release Tool (MRT). The VAL is installed to these release tools to eliminate wellbore fluids from entering the inside diameter of the work string being used for tool deployment. In some cases, when tool clearance to the annular casing is minimal, fluids will be forced up the work string inside diameter. In some cases, this fluid can reach the surface and create a messy unwanted work environment. The work string can be filled at the surface prior to breaking circulation.
The VAL consists of a spring-loaded poppet and seat, which will stop the flow of fluids in one direction only. Fluids can be pumped down through the VAL from the top but cannot be pumped up through from below. The top of the VAL contains a box connection that connects to all Core Design Release Tools. When accessory tools are not connected to the bottom of the release tools, an open-ended cap is installed to them.
When the release tools and the deployable tools (such as hangers and packers) are run to position, fluids can be pumped through the VAL to allow hydraulic functioning of the HRT, such as ball pumping, as well as total well circulation. After the releasing functions are complete, the VAL allows for pipe drainage when pulling out of the hole to eliminate wet pipe.
APPLICATION:
To control reverse flow of fluids through the work string to surface, while running in the hole.
FEATURES:
Can be connected to all Core Design Release tools.
Allows for one-way fluid movement only.
Allows pipe drainage while pulling out of hole.
Manufactured with high grade materials.
Functions in vertical or horizontal positions.
BENEFITS:
Creates a clean and safe working environment on the rig floor by controlling fluids from travelling up the work string ID and exiting the pipe on surface.
Allows for better well control monitoring of trip tank fluids, while pulling out of the hole.
---